Chapman eyes prize
July 30 2009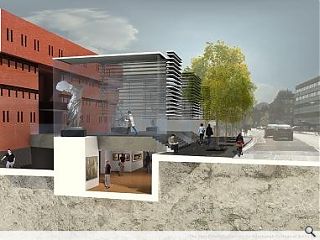 Tongues have been set wagging by the publicity shy donor stumping up a hefty £3m in financial support for the scheme with a snowballing speculative guessing game fervently underway in an attempt to decloak the shadowy figure.
Amidst this secrecy Oliver Chapman Architects have unleashed fresh detail on their proposed Gallery for Edinburgh College of Art that will Occupy the site of a car park , creating "a new visual presence" for the college and improving access.
This will provide display space for such multifarious accoutrements as plaster casts, sculpture, rare books and drawings within four pavilions, three glass and one open, to provide copious daylight to the semi-submerged spaces.
A "creative laboratories" centre at the Edinburgh Sculpture Workshop (Sutherland Hussey Architects) and a national literary quarter in Edinburgh are also vying to impress the mystery backer..
The winning scheme will be announced in April 2010.
Back to July 2009