Another brick in the wall
July 29 2009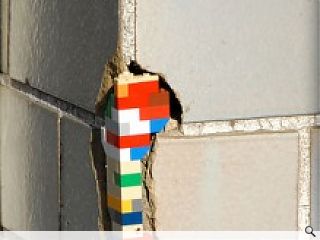 Think Lego and you may envisage living room floor based fun and games, perhaps even (more recently) as an architectural tool for house design or even the inspiration for a crazy Top Gear spin off. Few however would have imagined the healing properties of the global toy brands in papering over Berlins war wounds.
Fortunately Jan Vormann is an artist with just such imaginings, devising Dispatchwork as an art vehicle to fill the pock marked façades of WWII era building, still riddled with bullet holes, with everyone's favourite toy bricks.
It wasn't all plain sailing for the phantom Lego depositor however with unamused security guards failing to grasp the visitor boosting qualities of renegade Lego at Hamburger Bahnhof museum, insisting upon removal of the short lived blocks.
A warmer reception greeted Vormann at Humbold University, where passers by quickly cottoned on to the zany Lego interventionists mad cap machinations by enthusiastically dispatching bullet holes to their own individual styles.
This isn't the first dally Vormann has had with the colourful plastic parts, having previously worked on installations in Bocchignano, a village close to Rome and in Tel Aviv.
Photography by
Kathleen Waak
.
Back to July 2009