Deco echo
July 27 2009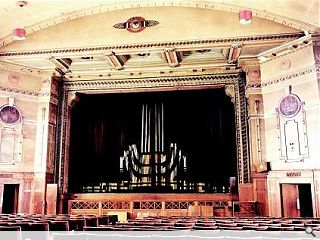 The Heritage Lottery Fund (HLF) have provided £129,600 in funding to help progress plans to save the Newbridge Memorial Hall, a stepping stone toward the £3.8m required to restore the Grade II listed Hall, which now has two years to submit more detailed plans for further HLF funding.
Built in 1925 to commemorate locals killed in the First World War the Hall retains its Art Deco auditorium which would be refurbished the stage and painted interior while retaining its faded charm with introduction of a new link block to improve access.
Commenting on the award, Howard Stone chair of the Newbridge Institute & Memorial Hall said: "The Memorial Hall is not some crumbling monument to the wealth and privilege of a by-gone age. Its very existence proves that ordinary people can become truly extraordinary through vision, generosity and sheer determination. The same community with the same sense of civic pride that brought it into being is trying desperately to save this people's palace of the valleys. We have been given a helping hand in the first step towards saving this building and now need the people's support to ensure that its heritage is saved for future generations".
The Hall remains in use as a home for local groups and societies and attracts up to 35,000 visitors a year.
Back to July 2009