Solar power flowers
July 14 2009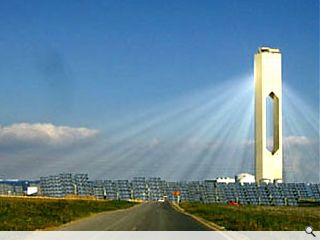 Twelve leading European industrial and banking giants – including Siemens, E.ON and Deutsche Bank have met with German government officials in Munich to sign a memorandum of Understanding in the formation of the DESERTEC Industrial Initiative.
DESERTEC aims to develop the technical, economic, political, social and ecological concerns surrounding the generation of carbon free power in the deserts of North Africa with giant solar arrays.
Dispensing with photovoltaic cells the technology is likely to utilise concentrated solar thermal power, where a fluid is transformed into steam and used to turn a turbine, this requires fields of mirrors to reflect and concentrate the sun's rays upon a single point to provide the necessary energy transfer.
This would help both to diversify Europe's energy supply, currently beholden to unstable oil rich regions and form a cornerstone of Europe's carbon reduction efforts.
A business case will be made within three years for the construction of a large number of networked solar thermal power plants that could supply up to 15% of the European Union's power needs and form the bulk of source countries requirements by 2020.
Back to July 2009