MAD table gets legless
|
Send to friend
June 26 2009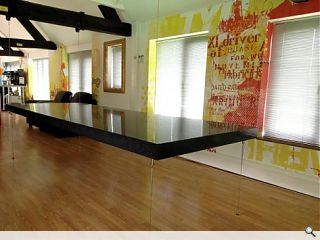 The Marketing, Advertising, Design Agency (MAD) have unveiled their eponymous table, a 10ft granite slab apparently levitating above the floor.
Unfortunately MAD haven't actually re-written the laws of physics but have instead employed a set of virtually invisible yacht rigging wires to create the floating wonder.
Key to its success is the development of Trend R New Galaxy by
Granite Transformations
, a new type of material that combines the distinctive look and style of natural granite with advanced polymer technology.
The result is an agglomerate surface that is both lighter and more manageable than natural granite, lending itself to off the wall applications.
MAD created the cabled table as a crafty attention grabber for zero g presentations and meetings at their newly renovated premises, swaying gently to the touch and fulfilling MAD's creed: "you don't have to be mad to work here, but you might as well look it…"
Back to June 2009