Class glass
|
Send to friend
June 22 2009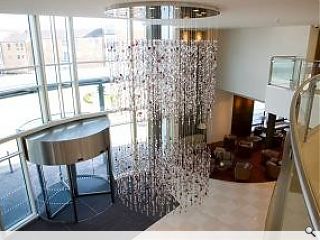 A crystalline, centrepiece chandelier now dominates the entrance space of the Hilton, Reading after being commissioned by designers, Seifert.
Manufactured by Chelsom the mass of cascading glass chains were erected to form twin effervescent floating clusters of glass drops, reflecting on into a polished chrome ceiling plate.
Each glass lens is hand made to a subtle blend of amethyst, taupe and smoke.
Back to June 2009