Back to school for Anderson Bell + Christie
|
Send to friend
June 8 2009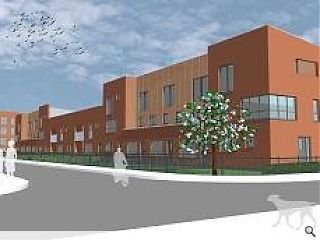 Anderson Bell + Christie have submitted £11.5m proposals for mixed tenure housing and offices to Glasgow City Council on behalf of Elderpark Housing Association for the former St Anthony's School, Govan.
The scheme entails provision of several blocks each sharing common materials, window proportions and large 'feature' indentations but retaining distinct identity.
A greater urban scale is afforded to Govan Road, reflecting its tenemental character and further enhanced by flicking up the parapet line towards the corner. The fenestration of the Elder Street elevation meanwhile is less formal but regular large indentations for the entrances serve to create more regular rhythm and also mirror the language of the Govan Road elevation.
Two Storey housing is contained in the centre of the site as a hybrid between urban and suburban housing.
The Elder Park elevation is treated as a set piece and is more complex than any of the other blocks with end terrace townhouses featuring corner windows, allowing the gables to animate Garmouth Street and a new street to the north.
Start on site is timetabled for January 2010 with completion in 2011.
Back to June 2009