Microlofts make big impact
|
Send to friend
June 5 2009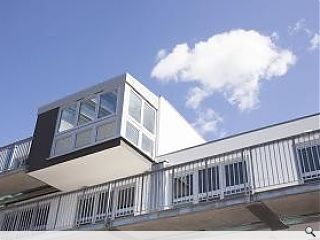 A residential development designed by Studio DuB has just been completed in south Edinburgh for the Microloft Company Limited.
Edging onto the Craigmillar district, which is itself undergoing considerable regeneration in the guise of the "ParcLife" project, the site sports an edginess which belies the fact that the location is sandwiched between verdant playing fields and magnificent views of Arthur's Seat.
Studio DuB's response is designed to evoke the toughness of the area by using a restricted palate of materials with elevational play in a muscular response that reserves the softness of timber for balcony privacy screens. The robust ethic continues internally with well-finished exposed concrete soffits and galvanised steel trunking and balustrading.
The four storey development takes advantage of its aspect by providing cantilevered decks to the front and balconies to each unit. Planned as an L-shaped development a courtyard faces towards the street, preserving the rear for gardens rather than parking.
Gordon Duffy, Principal of Studio DuB has made use of the generic balcony access model but this is made more generous by the delineation of two zones: a concrete accessway edging the courtyard and a defensible strip of galvanised steel durbar plate with etched glass flooring. Says Duffy, "an accessway needs to be more than 1100mm width to provide any level of amenity, here we've designed it at 1800mm to provide a modest external area which can be personalised adjacent to the common access zone whilst allowing light to filter through".
With an unashamedly tough design ethic, the project provides a range of units from the super-compact one-bedroom Microloft units of 32.5m2 plus rear balcony to 3 bed units with roof terraces: "there is a hierarchy of space which prioritises a more generous living area than sleeping, plus there are parcels of external space to front and back" explains Duffy.
Back to June 2009