Dock Clock chimes with success
|
Send to friend
June 1 2009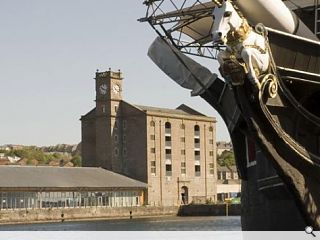 An important clocktower in Dundee, sandwiched between the cities two surviving docks, Victoria and Camperdown, has been carefully restored by Unicorn Property Group to provide loft style living spaces.
Rising to six storeys the A listed stone structure dominates the harbour area, necessary for allowing ships from bygone eras to set their clocks for voyages around the world. This historic exterior belies the contemporary interior however which sports underfloor heating, solid floor finishes, luxury tiling and all the latest mod cons.
Tim Allan, director of Unicorn Property Group, said "The Clocktower's former importance as a warehouse is matched as a symbol of the link between the city's maritime past and its future. We hope people will see the ClockTower as the embodiment of all that is exciting about a modern, aspirational Dundee."
Unicorn Property Group are heavily involved in the redevelopment of Dundee, notably with City Quay, a bid to provide a new residential and commercial quarter for a city said to have the last waterfront in Europe to be modernised.
Back to June 2009