Paint feint
|
Send to friend
June 1 2009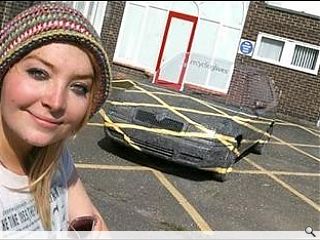 Those embarrassed to be seen driving their Skoda's around may be tempted by an elaborate paint job pioneered by art student Sara Watson at the University of Central Lancashire.
Ditching difficult to clean whites, boring blacks and monotonous primary colours of the mundane Watson has opted for a palette of greater ambition.
Unfortunately this level of precision painting requires more than a tin of Dulux, taking the patient painter three weeks of meticulous trial and error to accurately match hue and tone with background scenery.
With angle and light perfected the eye is duped into disregarding what lies immediately in front, although the illusion is fragile, sidestep off the optimum and symmetry is lost, revealing devious paintbrush trickery.
Back to June 2009