HLM discuss Highs, Lows and More
May 27 2009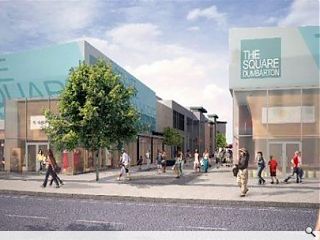 HLM Architects are one practice to duck the traditional mid life crisis as they undergo something of a renaissance on their 40th anniversary. The practice are flying high after moving into expanded premises at Ailsa Court, West Regent Street, Glasgow and are set to open a Plymouth office later this week, giving new meaning to middle aged spread.
Each of HLM's offices from Glasgow in the north to Plymouth in the south are not islands unto themselves but heavily interlinked allowing projects to be tackled by individuals best placed to meet particular requirements rather than on a geographic basis.
Health has been the mainstay of the practice for quite a few years and continued healthy success is demonstrated with the opening of The Victoria Infirmary ACAD unit and appointment to the mammoth Southern General Hospital complex. Key to this success has been securing placement on the NHS's Framework program, a means to save the client a Glasgow School of Art style entries avalanche by limiting work to those practices best qualified to deliver.
Keen to avoid pigeon holing however the practice is looking to diversify, particularly in the fields of justice, education and defence, all areas which demand a rarefied skills set but which HLM's nationwide army of 175 designers is well placed to meet. Lorraine Robertson, regional director of HLM said: "The mainstay for HLM for quite a few years has been health but we're now aiming to diversify working with Interserve on prisons work and Building Schools for the Future in Glasgow."
De-sectarianising education provision is a source of pride for HLM in Northern Ireland where they have created genuinely integrated campuses. It is an approach they are keen to bring to Scotland where even recent exemplars such as Craigmillar Primary duplicate provision of facilities and segregate pupils. Continued delay in the implementation of new Schools funding mechanism is threatening to put the kibosh on these ambitions however and Robertson remains pragmatic about the controversial PPP program: "It got schools built when they needed to be built."
Public sector work has proved to be something of a god send for the practice as: "Pretty much all the commercial aspects have dried up, but we'll keep plugging away at them so that we're ready to go when the economy picks up," according to Robertson. Amongst these schemes is Artizan, a refurbishment of Dumbarton's jaded shopping mall, on the go for some three years HLM are drafting up a series of options for phased development of the site
The Highland Housing Fair has provided HLM with an opportunity to showcase their sustainability credentials on two sets of terrace housing with ground source heat pumps and solar panels utilised for the PassivHaus standard homes. Robertson says: "We've got a sustainability group here who feed back into the design process, allowing us to build in energy reduction features early in the design process." Sustainability isn't the only niche occupied by the multi-disciplinary practice however with a landscapes and interiors department on hand to fully bed in development within the wider context, allowing a fully integrated approach to be adopted.
HLM's office "timeline", a snaking snapshot of key works conducted over the practice's 40 year history from Paisley Civic Centre to Altnagelvin Hospital, illustrates a diverse approach to brief. It is what the next 40 years have in store that surely excites even more however.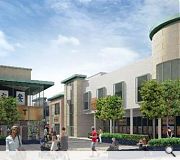 Back to May 2009