Wilson's Weekly Wrap: You're having a laugh and Should position papers have 69 pages?
May 12 2009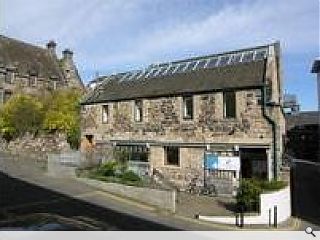 Last week I promised more, much more, on A+DS so here we go – don't say I didn't warn you. It's worth persevering though - there is light at the end of the tunnel and it's not the taxman's torch.
You're having a laugh
It's not often I get the opportunity to review a review – after all, when you read a book, concert, film, record or theatre review - indeed even one of a building – you sort of expect it to be a critical appraisal in itself of the subject in question. And I'm sure that's what Linda Fabiani, erstwhile Scottish Government minister responsible for architecture, expected when she requested one last September on the performance of Architecture and Design Scotland. Several month's later, the ultra-thin document that has finally been presented to her successor, Michael Russell, is something quite different and, I strongly suspect (despite the press release to the contrary), not exactly what the current government had in mind when it made clear to its various departments and quangoes its requirement for effective delivery of its ambitions.
In true 'Yes Minister' fashion, a civil servant – one Tim Barraclough - was duly appointed to undertake the task. Timothy, the Head of the External Support Division in the Scottish Government, clearly had a different notion of what the job was about however, for right up front in his report he tells us that it is not a critique ("it is not a detailed history of the organisation nor an elaborate critique of its performance since its inception in 2005") Eh?
Nope, in Mr Barraclough's words, this is a report that "presents the findings and recommendations of a light touch (sic) Policy, Finance and Management Review." Well, it's certainly light touch, being a mere 10 pages of A4 with a further six of appendices, the latter setting out his 'methodology' (a 'stakeholder consultation' comprising five questions of which more in a bit), the letter he sent to consultees and a two page list of the 29 folks who bothered to respond. Half of the respondents are or were members of the A+DS company or advisory boards, so amongst professionals in the construction and environment sectors in Scotland Tim managed to drum up only 15 other people to comment, of which two (Two! Out of the 4000 registered) were architects and in this instance half of this duo was representing one of the six schools of architecture north of the border. Now, far be it from me to say, but Tim could probably have found more people and a more representative sample of opinion than this at a bus stop, but no matter – what of his analysis and conclusions?
The first question he tackles is "whether there is a continuing role for a body such as A+DS to play". Incisively, the first of his 'stakeholder questions' goes straight to the point, viz.: "A+DS is Scotland's national champion for good architecture, design and planning in the built environment. Do you agree?" Tim was taking no chances here though and his second question hits the nail on the head: "Do you think there is a continuing role for A+DS?" Sadly in such a thin review, there is no record of the answers given by each of the 29 respondents, but Tim pre-empts any analysis anyway by stating that as CABE exists in England and a Design Commission exists in Wales then, prima facie, "this is a function widely recognised as a legitimate and valuable area for government action."
He goes on though: "There is no reason why A+DS should not build on its strengths to perform a vital role in Scotland, similar to those performed by CABE in England and the Design Commission in Wales." This, after four years of its existence! Tim sums up with the first of his less-than-trenchant recommendations: "The A+DS core function should focus on the practical promotion of good design in place-making and good architecture in a way that can be seen to lead to better outcomes." To achieve this he further recommends "that A+DS should continue (sic) to develop an approach which focuses its efforts on a limited number of core priority areas or themes." Hard hitting stuff this.
Moving on quickly to corporate governance of the organisation, Tim slips quickly into the more comfortable civil service territory of acronyms. I won't bore you with his personal debate here: suffice to say he recommends on the basis of minimal information (to us) "that A+DS be reclassified as an Executive NDPB." Having made this decision, he then swiftly gets rid of the A+DS Advisory Board which, since 50% of his consultees were members of it, proves that turkeys do indeed vote for Xmas. To be fair to them, Tim is spot-on in identifying the top-heavy corporate governance structure that existed, but then that was a large contributory element in the need for the review in the first place. No matter, their function is now changed and the new 'NDPB' (Non Departmental Public Body to the rest of us) requires, he feels, one or two more members to compensate for the loss of the Advisory Board, and that all of the directors of the new body should be remunerated.
Now aside from current public disgruntlement at rewards for failure, there is the small matter of where the money will come from but, John Sargent-like, Tim quicksteps past this issue to discuss the leadership of the organisation before summarising his recommendations for "changes in governance structure and arrangements." At this point, things jump beyond the information vouchsafed so far – we now find that not only should there be a single Board of up to nine members "with the right mix of skills for running a £1m business"; but also that "the Chief Executive needs to establish a clear leadership role" (which begs the obvious question of what's he been doing until now?); and "that the design review role of the Advisory Board should be taken over by a Design Review Panel appointed by A+DS (along the model of DCfW)". The last point is telling – Tim thinks even the boyos in Wales do it better than A+DS in its current form.
On then to A+DS' activities. At this point Tim dispenses with all pretence to base his conclusions on prior evidence and moves immediately to (strongly) recommend that the organisation "should look to focus on a limited number of key priorities which then inform all of its activities." So finally, here in paragraph 23, we get to the heart of his consultation, for he now confesses that during his review "doubts were raised about the value of Design Review, Enabling and Research functions" i.e. every single area of the existing A+DS remit! Rather than assess these in detail though, Tim's approach is to cut to the chase and conclude that "a focus on better outcomes would suggest an emphasis on Design Review, Enabling and programme work rather than Research." So there you have it - in one short line Research (so nebulous, really) is dumped to provide the money with which to pay the Board. Tim helpfully, if inadvertently, points out that A+DS programme work is government funded, i.e. additional to its core funding, so this area doesn't need to be cut to pay for Board memberships.
So far of course, all of the discussion has been about the Design Review process and how important this function is to the whole A+DS raison d'etre, so it comes as a surprise (although hardly a shock) to discover in paragraph 24 that "doubts have been raised about the role and usefulness of Design Review." Timbo of course doesn't want to dwell on criticisms but states that "it is fair to say there is a perception that Design Review has at times been operated in the form of negative criticism rather than constructive comment." No matter, Mr B is boss and takes the executive view (based on no evidence given here) that, "if well-designed, Design Review has a very powerful and positive role to play in promoting better outcomes in Scotland's development." His planning background was bound to come to the fore at some stage though: "In particular, the philosophy behind Design Review should be facilitative and enabling rather than judgemental – this fits with the underlying approach to the current planning reform agenda which places emphasis on early consultation and engagement." So Tim's recommendation is that Design Review should trundle on, albeit with four principles in mind, the self-evidence of each of which is so mind-numbingly obvious I won't bother to repeat them here.
The next couple of pages ensure that A+DS will continue not to need the services of a dentist, being that Tim considers its current toothlessness to be a real virtue. He specifically recommends that the organisation does not become a formal part of the planning process as a statutory consultee for specified planning applications since "that would compromise its ability to engage in its enabling and facilitative role." Developers and other planning applicants can therefore continue to safely ignore its postulations as indeed can the Scottish government, since our man at the ministry makes clear that A+DS' role is not to take a stance independent from government on key relevant policy issues or to challenge the government in the public arena. No, no, no - once we start paying Board Members, their job is to toe the line. Not that this should be too onerous a task - Tim suggests there should be at least one meeting a year "between the relevant Minister and the leadership of the organisation to ensure there is a shared agenda at the highest level." This of course will ensure that "A+DS is given the freedom to champion good design within the framework of Government objectives." Albert Speer himself couldn't have phrased it better.
Before reaching the denouement, however, there are a couple of classic lines that deserve to be highlighted: "both sponsor division and A+DS should agree a structured and proportionate approach to the monitoring and reporting of the organisation's performance", a joyful confirmation that the consenting players here can stick together and avoid the embarrassment of ever having to go through a review process again. The second is a real beauty: "a restatement of A+DS' purpose will help clarify boundaries of its relationship with organisations such as Sust, the Lighthouse, Historic Scotland, RCAHMS and the Built Environment Forum Scotland. The Scottish government should consider conducting a mini (sic) landscape review to ensure the respective roles of these bodies and the distinctions between them are understood and disseminated." Perhaps as the night sky falls on future public funding we can wonder whether any effort will ever be put into asking why Scotland has so many organisations (sorry NDPB's) with duplicated functions, but I wouldn't hold my breath – the Tim Nice But maybe-not-so Dims of this world will always be around to recommend that they be further employed to make yet more inconsequential recommendations. You have to ask though: what would our hero have recommended if thirty more people had come forward and answered 'no' to his first two questions?
More revue than review then, this vaudeville script certainly made me laugh uproariously until I remembered that we're all paying - and will continue to pay - for this farcical nonsense. Michael Russell, MSP and Minister for Architecture, would be wise to take steps to cut our national investment in this particularly provincial production (PPP).
Should position papers have 69 pages?
And since we're on the subject, what are we to make of 'People, Places and Planet', the latest publication to emerge from A+DS? Yes, it's the organisation's whimsical response to Malcolm Fraser's criticism that it had failed to tackle PPP. As we now know, in the Swiftian world of its Bakehouse Close bunker, a review need not actually be a review, so it seems only reasonable that this document be described on its cover as a 'position paper', although nowhere in its 48 pages is there an explanation of what exactly the phrase is intended to mean. It has an aim though: "to promote debate and to set out a clear basis for understanding how the principles of sustainability, applied to the process of place-making, can deliver improvements for people, places and planet." Shame that this doesn't appear until the conclusions on page 45, but lets not be churlish about this grand ambition because right up front in the introduction good old Vitruvius (he of "commodity, firmness and delight" fame) makes an unattributed contribution, although he'd almost certainly blanch at the transposition of his original Latin into A+DS-speak.
That said and having already reviewed the review of A+DS, you'll be glad to know that I don't now intend to review 'People, Places and Planet'. I will however – and since Chair Raymond Young CBE so charmingly invited me to do so at last week's launch of the document in the Scottish Parliament – repeat here my question to him as to how the organisation intends to ensure the subject of sustainability (for this is what it's about) is introduced into the curriculum of those schools of architecture that exist this side of Berwick? You didn't have an answer then, Raymond, but I note that your chief executive, Sebastian Tombs is quoted in AJ (in response to the review reviewed above) as saying that the organisation "will be targeting skills development to help raise the capabilities of place-makers (them again) to create places that the people of Scotland deserve." If A+DS doesn't start on this in the schools of architecture, I'm prepared to bet it won't achieve it anywhere. Moreover, since the prize for proving me wrong will be an inadequately educated generation of architects it would be good to see the organisation take this aspect of skills development a bit more seriously than it did the other evening.
And finally….
The applications are in, although the shakedown from 9500 downloads of competition documents to the final list of 153 entrants suggests that not everyone thought the latest opportunity to transform Glasgow School of Art was the big deal the organisers had hyped it up to be. Of course – as with the Scottish Parliament competition – the high PII requirement would have stymied more than a few talented souls. Whether or not it was this that brought together some curious partnerings (e.g. Sutherland Hussey with Richard Murphy) or whether the aforementioned Parliament experience has changed the social order of things to the point where no self-respecting competition is complete without the big name (Rafael Moneo) being attached to the team that invariably gets the job (RMJM). Why choose Moneo? After all, only a cynic would think that this internationally eminent architect could be an influence on juries in Spain where MBM Arquitectes continue to put themselves forward in competition. Still, it's refreshing to read in AJ that the jury chairman for the Glasgow project, MBM's David Mackay, thinks "our task will not be easy because the difference between the qualities of the entrees promises to be very narrow." Let's hope there's more exciting choice to be had amongst the main courses.
Back to May 2009