Arup are on an up
May 5 2009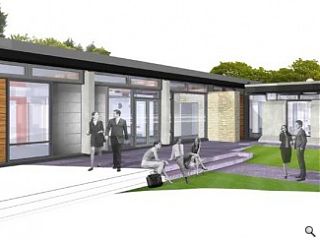 Arup Scotland's South Queensferry headquarters are being remodelled by haa architects who will fully refurbish an existing grade B listed pavilion, designed by Arup Associates' Peter Fogo in 1967, and construct a complimentary extension.
The existing pavilion building will be cleared to provide modern open plan office space with a new reception, meeting rooms and support functions will be re-housed within the extension.
Occupying a walled garden area of the old Scotstoun House size, location and main elevation are necessarily influenced by what was acceptable to Planning and Historic Scotland.
Wind catchers, sola tubes and natural cross ventilation, regulated by perimeter glazing and a central cupola reflect a piority on the part of Arup for high sustainability standards.
Work to facilitate haa's remodelling are now in progress.
Back to May 2009