Stirling seeks Wallace solace
May 5 2009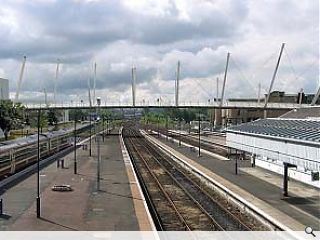 It was a case of six and half a dozen in Stirling at the weekend when six individuals bearing the name William Wallace were rounded up in symbolic celebration of the opening of a £6m pedestrian crossing that now links Stirling's Forthside with the city centre.
The historical herding aimed to recall the Battle of Stirling Bridge in 1297, a famous victory for the renegade Scotsman.
Pedestrians are expected to make use of the new walkway to traverse between the historic town centre and a new cinema, restaurant, hotel and conference centre at the Forthside development.
Designed by Gifford the bridge is intended to surmount both visual and geographic detachment of the Forthside area by signalling new development with respect for the old.
Opening of the bridge had been delayed by a hefty 12 months due to an extended period of testing demanded by the complicated structure.
Back to May 2009