Hoskins has the feminine touch
May 4 2009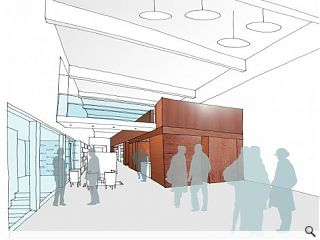 It seems good things come in twos for Glasgow Women's Library for no sooner is approval and listed building consent approved than extra funding is announced from the Scottish Arts Council's new Public Art Fund.
Since inception in 1991, Glasgow Women's Library has grown into a vibrant independent information hub housing a library, archive including contemporary and historical artefacts relating to women's lives, histories and achievements.
That growth now requires larger premises and to that end Gareth Hoskins Architects will convert the Anderston Library space in the grade B listed Mitchell Library for the Glasgow Women's Library, providing wheelchair access throughout.
Proposals include an archive facility, office accommodation and the insertion of a new object within the existing double height library space to create a mezzanine floor for intimate learning and meeting areas above the reception and shelving alcoves. Larger group activities and library spaces are accommodated towards the front of the library in double height areas.
Back to May 2009