Beeb beep
May 5 2009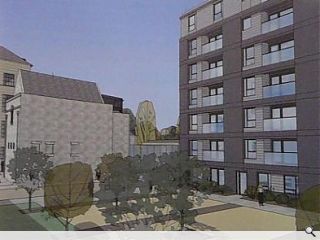 A planning application for a new hotel and homes within BBC Scotland's former headquarters has been overtaken by a revised submission calling for a bigger bar, spa and more rooms.
This is the second amendment to be received by the council after a prior reduction in the volume of flats from 185 to 155.
Now the number of hotel rooms on the Queen Margaret Drive site will be upped from 85 to 120, an increase to be accommodated on three additional floors over part of the hotel.
CDA have drawn up designs for the site which will be organised around a central boulevard and be composed predominantly of buff ashlar sandstone, silver grey cladding, white render and dark grey timber windows.
The A listed North Park House and Honeyman and Keppie Anatomy buildings will be restored to create the bar, reception area and single luxury hotel suite.
QMD Hotels Ltd aim to have the development complete by 2011.
Back to May 2009