Titan crane towers over rivals
|
Send to friend
March 23 2009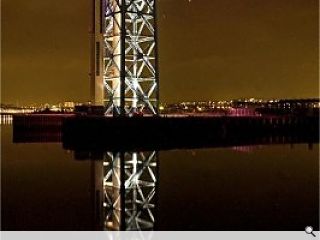 The Clydebank crane, centrepiece of Clydebank Re-built's efforts to re-imagine an ex industrial waterfront, has scooped two important gongs at the Civic Trust Awards, notably the inaugural "Scotland Placemaking" award.
Leading the fray at the 50th anniversary bash the imposing crane impressed upon the judging panel with its dramatic lighting installation illuminating an industrial landmark steeped in poignant history, the last vestige of a once great ship building legacy at John Brown's Shipyard.
The Titan was built in 1907 at a cost of £24,600 by Sir William Arrol & Co and could handle loads of up to 150 tons and later 200 tons, essential for John Browns Shipyards to build and fit out the world's biggest liners and battleships last century.
Grade A listed, the structure was given a new lease of life in 2007 when restored by Collective Architecture as a £3m visitor attraction.
Back to March 2009