Premier Inn eye Edinburgh's premier street
|
Send to friend
March 23 2009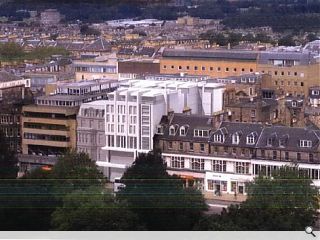 Deramore have unveiled fresh imagery for a significant redevelopment of 121-123 Princes Street, designed by Archial the proposal stretches all the way through to Rose Street Lane.
Premier Inn have expressed an interest in tenanting the 96 bed hotel, a few doors up from fellow budget operator easyhotel, whilst New Look have signed up for 27,500sq/ft of retail space in the £40m development.
Of the three buildings currently on site only a Georgian building at 123 Princes Street would be retained, the remainder being cleared for
The latest proposals supercede prior plans to clothe the site in glass.
Princes Street is widely held to be a mess with derelict upper floors, low rent stores, a hap-hazard streetscape and heavy traffic
Business leaders have thus warmly welcomed the plans as a means of re-energising one of Europe's premier throughfares.
Back to March 2009