Great Eastern expectations dashed
|
Send to friend
March 19 2009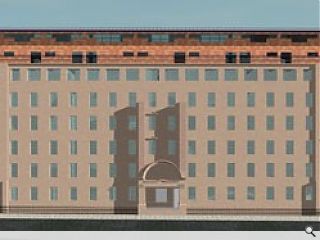 A 70ft section of Glasgow's Great Eastern Hotel headed south today when a corner wall collapsed.
Contractor CCG issued a statement advising that the building has now been stabilised and the collapse occurred in an expected and controlled manner. The collapse occurred in the midst of ongoing works to transform the former hostel into flats to designs by Elder & Cannon for Milnbank Housing Association.
Integrity of the Mill's structure had long been questioned with some dubious as to the stability of the structures mass concrete and corrugated iron. With those fears now borne out there is concern of a progressive collapse endangering the future viability of the building.
Previously known as Alexander's Mill the property was designed by Charles Wilson, of Park Circus fame, and is of note for its early use of concrete.
Back to March 2009