Get Carter car park gets set for demolition
|
Send to friend
March 18 2009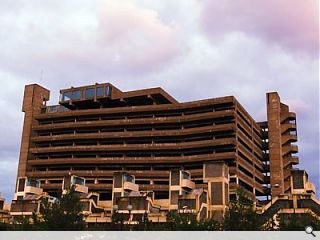 Demolition is now underway at the infamous Owen Luder designed "Get Carter" car park in Gateshead.
Film fans the world over were wowed by Michael Cain's antics in the unfinished monster, which was to have included a rooftop restaurant, if rather less impressed by the surroundings.
Now after lingering on the skyline for decades the cinematic relic of the sixties is to be consigned to celluloid.
Despite some interest in preserving the brutalist structure, recently lent some muscle by Sylvester Stallone, the monolith was regarded as a white elephant locally.
It's replacement is however unlikely to reach such levels of iconicity, featuring a mixed-use development for Tesco designed by 3DReid.
Back to March 2009