IES shed light on Parliament
|
Send to friend
March 16 2009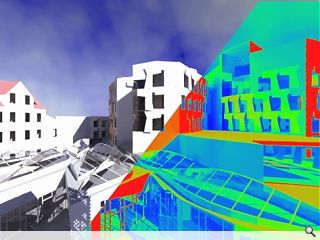 Integrated Environmental Solutions (IES) have published a graphic demonstration of their free plug in to Google SketchUp, the popular 3D design tool. A false colour slide depicts daylight levels at the Scottish Parliament against a specially generated 3D model, illustrating the penetration of light into the atrium space under leaf skylights.
Critically the package offers real time interaction with key properties vital to sustainability, such as daylighting, at the earliest stages of the design process where the maximum difference to energy efficient design can be achieved. This is intended to get engineers and architects working together from a projects inception.
SketchUp has traditionally been used early in the modelling process for the ease in which it allows worlds to be put together, the more powerful Revit being reserved for later production. With no analysis tools available for SketchUp until now, people had no way of calculating sustainability aspects of the build. With a reduced degree of freedom, a lot of analysis is lost and a mass of opportunities go begging.
The IES software interface provides an additional toolbar within the SketchUp application that grants access to a Virtual Environment. This provides a series of options for the conversion of surfaces from geometry and to conduct solar analysis, wind roses, daylight penetration, shading and surveys. Temperature features can be colour banded with mathematical rigour.
From here users can assign data to a raft of parameters of relevance to sustainability such as location, building type, room type and more. From these inputs the impact of daylight, glare and electrical lighting can be correlated. Properties for these inputs are then drawn from an extensive database to allow a dynamic output of energy, carbon and solar analysis amongst others. This performance analysis can be performed iteratively from concept to completion to offer tremendous scope for energy savings.
For successful analysis a bounded model is required where surfaces can share information, designation as a hole or glass for instance allows air to travel through to adjacent surfaces. An architect simply selects a world location which has inbuilt climate information on a large database, materials to be used and the building type will further inform calculations. This allows lots of analysis and comparisons to be performed quickly for ballpark figures that take mere mins to compute in stark contrast to the days required previously.
Back to March 2009