A new dawn for Anderston
|
Send to friend
March 13 2009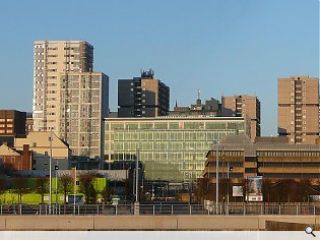 Years spent hanging out of handily located office windows, yelling at workers to wear their hardhats, will come to an end this July when Aedas celebrate arrival of their latest baby, Cuprum.
Burned at Glasgow Harbour after being unable to shift high end apartments Bryant opted to plump for more affordable housing here, unfortunately this has seen the developer scalded again with completion coinciding with a severe housing downturn, as yet none of the flats have been sold off plan. Nevertheless the council have professed themselves delighted with the French designed Carea cladding, a mere 12mm thick it screens the façade in a durable and weather resistant screen and the flats, though small, sport dramatic rooftop views.
Luckily Bryant did diversify their stock this time round with the addition of high spec office space which remains in demand, this was stimulated by the commercially successful Europa building next door which was largely pre-let upon completion and turned a tidy profit for Taylor Woodrow, providing the developer with the confidence to think bigger and better.
Street interaction is compromised by complexities on site, notably the presence of a low level sewer. This negated the possibility of underground parking, pushing vehicles up to street level and onto a decked parking bay in the rear courtyard, shielded from view from the street by a Portland stone effect concrete screen. Commercial realities at this end of Argyle Street preclude any meaningful retail contribution but it is hoped a small café space can be incorporated at the foyer.
High hopes are harboured for the surrounding Anderston Centre which after witnessing years of tinkering around the edges is finally to be tackled in a substantial manner, clearing the remainder of the megastructure and punching through new roads access.
An outline masterplan has been approved to this end and will be subject to further refinement in the years ahead, notably taking into account redevelopment of the Marriott site for what is hoped will be a signature tower development. An upping in density of the area could be facilitated by redeveloping Anderston station and routing a new pedestrian friendly access into the Marriott site, although no physical progress will be visible on site until 2014 at the earliest.
In addition proposals for the Connect2 reinstation of the infamous "bridge to nowhere" are keenly awaited by all as a critical breach of the M8 barrier.
Back to March 2009