Why you should never post a house-
|
Send to friend
March 12 2009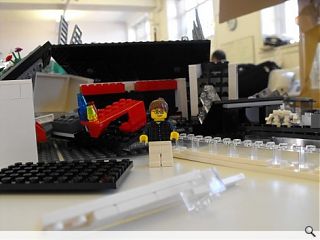 A major tragedy in central Glasgow underlines why you should never move house by post. Architecture Scotland opened a cardboard box which should have contained an entry for a prestigious architectectural prize. Instead they came across a pile of plastic rubble, proving that nobody is immune from the housing crash.
The architectural competition is the Scottish Design Awards, which aims to identify Scotland's best new buildings. However, the entry was for a special category which is being held in aid of the National Autistic Society. As part of it leading architects such as Gareth Hoskins, RMJM and Gordon Murray and Alan Dunlop have been challenged to design and build a villa made out of Lego.
These entries are now arriving at the offices of Prospect magazine in preparation for their display at the Scottish Design Awards Nominations Party at the Fruitmarket Gallery in Glasgow next week.
However, an entry designed by Aberdeen-based Michael Gilmour Associatives arrived in pieces after being sent by post.
Said Prospect publisher Gordon Young, "It is a real shame because this was one of the few houses to be completed in Scotland over the last few months. However, a valuable lesson has been learnt. When we hold our architecture awards next year we will stop asking people to send us their entries. Visiting the building in situ is always the best bet."
Structural engineers are now assessing to see if the house needs to be completely demolished. But the Prospect team are hopeful it can be rebuilt in time for it to be auctioned off for the charity. The house which raises the most money will be announced at the Scottish Design Awards on May 29. They will also be displayed at The Lighthouse from March 19.
The main suspect was seen fleeing the scene… he is wanted in connection with several illegal demolitions of important buildings throughout Scotland. He was last seen heading for Cardross.
Back to March 2009