Wrap attack
|
Send to friend
March 11 2009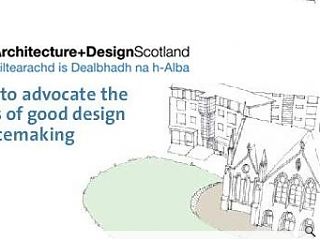 The Wrap's
latest bout of fire and brimstone
has not been well received within the corridors of Architecture + Design Scotland.
David Hutchison, Communications and Research Manager at A+DS, has volleyed a salvo of counter claims at Wrap HQ, irked by incendiary claims of extravagance and opaque success.
The rebuttal is reproduced in full below.
Re: Peter Wilson's latest epistle.
Wilson's latest piece is full of his customary synthetic fury. That Wilson does not particularly like A+DS is hardly news; that he chooses to make his views known in quite such a Jeremy Clarkson-esque manner is his business.
What I can`t abide though, and would ask that you take steps to address, is falsehood.
Starting with the most glaring error "the report points to the A+DS website for the full annual account but don't bother going there - it's nowhere to be found"
All A+DS Publications can be found here -
http://www.ads.org.uk/about/corporate_publications
You'll notice that the Financial Statement for 07/08 is the second item. Its direct link is -
http://www.ads.org.uk/documents/483/483.pdf
A quick read of the Annual Report outlines the main achievements of the year before and highlights the challenges ahead – something according to Wilson that isn't in the review.
In the piece he describes it as an "expensive production". There is a distinction from something that is well-produced and something that is expensively produced. For your own information the ex VAT costs of the design, artwork and production of the Annual Report, for 1000 copies, was £4830. I`m more than confident that this would compare favourably to other public (and private) institutions.
Wilson also refers to the Annual Report as "recently published" and is to get A+DS's "defence in first" regarding the soon-to-be completed Quinquennial Review. The Annual Report was launched on 11th December 2008 – your website/magazine was among the organisations who received an electronic copy of the report, under embargo, the week before this. The 1000 hard copies have been disseminated in a few traunches since the turn of the year.
David Hutchison
Communications and Research Manager (A+DS)
The Wrap strikes back
Interesting comments and I happily accept that – once directed to it – the A+DS Financial Statement can be found on its website. It's not immediately obvious though and the fact that Mr. Hutchison has had to e-mail Carnyx with a link to the relevant section of the website perhaps explains why mere mortals like me couldn't find it.
More to the point, I've never met or spoken to David Hutchison so quite how why he thinks I don't like A+DS is anybody's guess – I've merely commented on its output and if it's not any good, many people would simply put that down to him as the organisation's Communications Manager. The same applies to its website and to what Mr. Hutchison now refers to as the Annual Report but which is actually the Financial Statement – two entirely different documents. The printed Annual Report is what I referred to in the Weekly Wrap and I stand by my comments on its contents – almost all of the statements (other than the financial pie charts) made within it could apply to any year and not just to 2007/08.
Now that I have had the opportunity to look at the full financial statement for the year in question it seems moot to point out that the figures for the Chief Executive's costs in the Financial Statement are entirely at odds with the percentages of overall expenditure shown in the Annual Report's pie chart. I don't know who in A+DS is responsible for the fingers and thumbs approach to the use of a pocket calculator on this one – my point was simply that the abbreviated accounting information supplied in the Annual Report was (a) inaccurate and (b) doesn't do the organisation any favours. The comparison I made was simply the easiest one on offer since I already knew that the Chief Executive's costs weren't anything close to the £100k+ implied by the Annual report's pie chart.
That said, and contrary to Mr. Hutchison's statement, the A+DS Annual Report is an expensive production, given the costs he quotes. Its' a full colour document folded from A4 to A5 to give it 36 pages but is in fact only 18 sheets of A4. This compares very unfavourably with private sector design and printing costs with which I am very familiar. I can't comment on public sector costs other than to say that comparable sized documents I have recently been responsible for publishing on behalf of three different public sector agencies were produced at considerably more competitive costs than the one he quotes. He may argue till he's blue in the face about this, but I would remind him that he is using public money here and he has a responsibility as a Civil Servant to use it prudently.
One of the reasons for the high cost is the small print run which produces a completely uneconomic unit cost. It is all very well to put documents on a website but unless you let people know that they exist there (and where to find them) it's unlikely they will be seen by many of us. I would argue that the main constituency of A+DS is the architectural profession and of the 4000 architects or so in practice in Scotland, precious few have any notion of the ongoing work of his organisation, a situation he was presumably employed to rectify. I doubt there are many amongst that group who make regular visits to the A+DS website – I, for example, don't for the simple reason that not much changes on it from week to week – and sending them a printed copy of a decent report on its work would be a huge pr improvement.
Which brings me on to Mr. Hutchison's comments on the dissemination of A+DS documents. Contrary to his inference, I'm afraid I haven't been sitting on the Annual Report since December - I received a copy of it in the post last week, which is precisely why I commented on it in the most recent Wrap. In any case, this is March and even if it was put online in December, this would fall into the category of "recently published" for most media outlets (including Prospect as a quarterly journal). As a Communications Manager, I would have thought Mr. Hutchison would be aware that there can be a substantial lead in time before any coverage emerges from embargoed press releases and that it is by no means certain any articles or even news items will be achieved from them. For that reason alone, I think Mr Hutchison ought to be pleased – indeed relieved - if my comments drive people to the A+DS website in order for them to make their own minds up on its work. I am of course entirely happy should they choose to disagree with my view.
Finally – and I know it wasn't in his letter, but I'd like to take this opportunity to dispel one of the points raised in one of Mr Hutchison's vituperative phone calls to Carnyx – sorry Mr. H, but you're got hold of the wrong end of the stick if you think "I hold a grudge against A+DS because I was booted out of RFACS" – I've never in my life had any direct involvement with either RFACS or A+DS, a state of affairs I plan, as an independent commentator, to maintain. And, it follows, that I hold neither grudge against nor torch for either organisation – the purpose of the Weekly Wrap is exactly that: to draw together things that have been published about architecture and comment on them to a predominantly Scottish audience. If the comments seem negative to you, I'd ask you to look at the quality of the material you've generated for publication – in this instance a completely binnable piece of p.r. puff when a rather more durable and informative Annual Report was required.
That said, I look forward to continuing to write about A+DS and to playing my own small part in helping to raise its profile; whether said profile turns out to be positive or negative is really your job, Mr. Hutchison.
Peter Wilson
Back to March 2009