SDA nominees in play
|
Send to friend
March 11 2009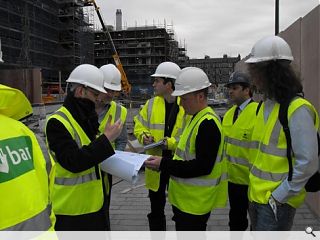 The Scottish Design Awards have entered the end game now with conclusion of a positively exhaustive judging process.
Our panel of experts wheedled and dealed over the course of a two day stay in a bid to extricate the fine from the divine.
A magical mystery tour shattered dour misconceptions as we journeyed amongst some of Scotland's finest erections, imparting some architectural flavour for our judges to savour.
Aided by some 100 proof 10 year old Springbank whisky our intrepid team continued this big debate into the wee small hours, running over the relative merits of our whistlestop stopovers.
One day gone, a new day dawns and our team set to work with gusto in an Aladdin's cave of submissions sprawled across a voluminous banqueting hall. The onerous task was a big ask but professional as ever our alert experts distilled the essence of this architectural presence culminating with our Chairman Dennis Sharp's pick of the crop and of course the hallowed Grand Prix.
Robert Adam, of Robert Adam architects, was effusive in his praise for the general calibre of entries: "The quality is great, if not all to my taste, especially when you take Scotland's measure of the UK population. It is interesting to observe the camaraderie in such a small group of people, bigness is not the be all and end all."
Nominations will be revealed at our Candleriggs gig in the Old Fruitmarket on the 18th March. To book a place at this event please log on here,
http://www.thedrum.co.uk/events/59-scottish-design-awards-2009/page/77
Our full complement of judges comprised:
Dennis Sharp
- Dennis Sharp Architects
Professor Robert Adam
- Director, Robert Adam Architects
Paul Zara
- Director of Conran & Partners
Christopher W Jones
- Deputy Chairman, Careyjones Ltd
Ivan Harbour
- Rogers Stirk Harbour & Partners
Ian Goodfellow
- Penoyre & Prasad LLP
Peter McLaughlin
- John McAslan & Partners
Back to March 2009