Keppie's paint play
|
Send to friend
March 11 2009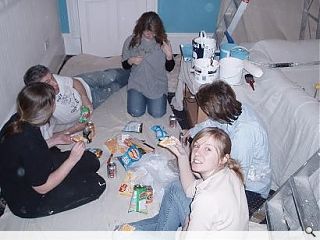 A team from Keppie surrendered a day off to paint a Glasgow flat in a bid to brighten up the lives of youngsters at a Barnardo's home.
Barnardo's help young people make a smooth transition to living independently after being in care through the provision of supported accommodation in a shared environment.
An ailing interior was compromising this goal however, that is until Keppie's dynamic staff, on hand for a laugh, accepted the challenge at hand.
Fraser Low, Director of the Interior Design team at Keppie said: "We're delighted to be involved in such a worthwhile cause and enjoyed getting out the painting gear at the weekend. Our team are more used to office working, developing design concepts and specifying technical materials so it's refreshing to do something so hands on - and educational too! "
Keppie wish to thank Hugh Stirling, who provided the team with decorating equipment and advice to complete the task.
Barnardo's Scotland works directly with over 10,000 children, young people and their families in over 60 specialised projects in local communities across the country. For more information about Barnardo's Scotland visit
www.barnardos.org.uk/scotland
Back to March 2009