Wilson's Weekly Wrap: Design matters? It's all about delivery & There's always a helping hand
|
Send to friend
March 10 2009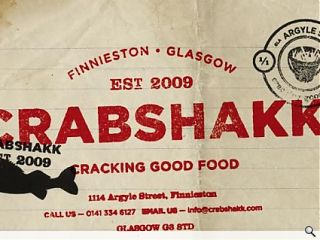 Apologies before we begin – it's a slightly truncated Wrap this week due to the file evaporating from my laptop before I had the chance to send it to the architecturescotland website. Although it's been a pain to rewrite most of it at speed, I'm happy to accept this intervention from the great libel lawyer in the sky as a sign that he's continuing to act for the defence. The full, unexpurgated tale of the Edinburgh trams that I promised you last week is therefore delayed a little.
Design matters?
The Scottish Government's review of Architecture and Design Scotland - has still to emerge, so in the time-honoured manner of all those forced onto the back foot, the architecture profession's very own quango has managed to get its defence in first. I'm referring to the organisation's recently published Annual Report for 2007/08, a small document whose expensive production is the vital link to the kind of annual reports we used to see from more monied outfits like banks and insurance companies. The similarity ends there, however, since conventional annual reports are statutorily obliged to summarise the main achievements of the year in question, anticipate the challenges ahead along with the proposed strategy for dealing with them and – most importantly – provide an analysis of the finances.
A+DS takes a different, more aspirational, motherhood-and-apple-pie approach, with much use of terms like 'delivery' and 'sustainability' - the latter, for which more than 200 separate definitions can be found on the Internet, being the currently preferred weasel word of politicians everywhere. Indeed, the document – imaginatively titled 'Design Matters' - is something of an homage to political correctness, with 1990's favourites like 'advocacy', 'brokering', 'collaboration', 'embedding', 'enabling', 'engagement', 'facilitating', 'harnessing', 'partnership' and 'stakeholders' arbitrarily peppering the text wherever a bit of feel-good emphasis has been deemed necessary. That of course is between the truisms and the genuinely mystical – Brian Evans, the A+DS Deputy Chair, wins the prize here for his inscrutable musing that "Better places contribute significantly to achieving Scotland's national outcomes". Mmm…
But if you're into inscrutability, head straight to the financial section where, over a whole two pages, a great deal of blank space is inhabited by two small pie charts representing income and expenditure, the former totting up to £936.3k whilst the latter is conveniently broken down into percentages that prevent the interested reader from accurately gauging what it has all been spent on. This stratagem forces the reader to surmise from the evidence on offer that the chief executive – at 13% of the total gross income - costs a good 50% more than the organisation's much vaunted Healthcare Design programme. Helpfully, the report points to the A+DS website for the full annual account but don't bother going there - it's nowhere to be found.
Now, it's not uncommon for me to be privately harangued by members of the A+DS advisory board or its staff for being critical of the organisation but sorry folks, you just bring it on yourselves with this kind of public relations pap. Next time (if indeed there is a next time) please just give us the facts: what you set out to do, what you achieved and what it cost. And if you must cling onto those old 90's comfort blankets, can they be Key Performance Indicators? If so, can 'Make Some Impression' be one of them?
Note:
A+DS have hit out at some of the allegations made in this article. Their response can be read in full here,
http://www.architecturescotland.co.uk/news/1285/Wrap_attack.html
It's all about delivery
Having said all that, one thing that did surprise me in the pages of the A+DS Annual Report was the mention that furry boot city now apparently has a 'Design Champion'. I was so struck by this hitherto unknown fact that I headed straight to the web for more information and lo! – Not only does the Granite City have a Design Champion, it has an ongoing 'Design Campaign' intended to "drive up standards' and "gain international recognition" for Ebberdeen as a " City of Design". Who'd have thought, I hear you say, but putting scepticism aside for a moment (we'll be back there, don't worry) the intentions are laudable – even the Planning Committee Convenor, one Scott Cassie, appears to have become excited, especially about the prospect of involving himself in 'design weeks' in each of the city's 37 neighbourhoods. Scott is clearly a stranger to the nine-month Granite City winter.
All of this is the result of a report from the city's head of planning and infrastructure, Dr Margaret Bochel, in which she states that "citizens and professionals in the field should all be engaged in improving the look of the city", which by corollary, presumes I suppose that the toon's architects and council tax payers have until now been actively colluding in the destruction of its visual ambience.
Me, I'm not getting too excited – the report has all of its 'aspiration', 'partnership' and 'stakeholder' tickboxes filled but, more tellingly, the committee members, in approving it, also gave the green light to planning officers to work out how best to deliver the three-year campaign. Given that 25% of that timescale has now elapsed with no white smoke emerging from the planning department's chimney, I think it's fairly safe to paraphrase Alex Salmond's one-time comment about former UK Defence Minister, George Robertson viz: "deliver a government policy? I wouldn't trust him to deliver a pizza".
There's always a helping hand
The fashion for design champions may not yet have faded, but for others, redundancy is a real issue. In the absence of any substantive support from the architectural world's professional bodies (other than the Architects' Benevolent Society), step forward the UK government with its announcement of a multi-million pound drive to tackle white collar unemployment and which will include architects, bankers and lawyers.
James Purnell, the Orwellianly-styled Work and Pensions Secretary, has let it be known that from April extra help will be provided at Job Centres for some 350,000 people who have no recent experience of looking for work. Those that sign on will get a one-on-one meeting with a personal adviser, will attend group sessions with people in similar situations and will be given tips on changing careers. This of course makes it all sound more like a lap-dancing bar than a Job Centre, which is maybe the point – who after all wants to find themselves in the same enclosed space as a banker? Yes, the old jokes are still the best – unless they command a ministerial position.
It's not all bad news
Amidst all the doom and gloom it's good to see some architects being proactive on the publicity front. Not your standard press release puff mind you – it's all too often down to pot luck whether or not any of that ever secures column space in newspapers or magazines – but articles that reveal either a more human side to the profession or something of the diversity of creative skills that can be found within it.
Full marks then to Chris Dobson of architects 3DReid who has managed to get himself a regular column in Scotland on Sunday's Property section to document his conversion of a wreck of an old building in Fife into a home for himself. It'll be interesting to see how the project pans out – Grand Designs has, after all, convinced the public that any old fool can convert a pigsty into a palace, so the pressure is on Chris to demonstrate that an architect really can make a difference.
The other, more unusual, example culled from the past week's press was a review in the Sunday Times of the Glasgow restaurant owned by Hebridean architect John McLeod and his wife Lynn. Anyone reading this encomium would not only have been struck by the high praise for Crabshakk's seafood, but heavily encouraged to make a swift diversion to the Finnieston end of Argyle Street to get a shufty at the place's architectural credentials. As reviews go, this definitely falls into the double whammy category so here's hoping it produces the goods in terms of new bookings.
Other architects are getting through the recession in full Nero toga mode – not so much fiddling as partying like there's no tomorrow. Last week saw two outstanding examples of this marketing genre: Smith Scott Mullan continued to host their annual jazz event in their Leith Walk premises and attendees would have been hard put to spot (a) any diminution in the standard of catering and refreshments on offer and (b) any decrease in the number of be-suited clients/consultants eager to avail themselves of the architects' renowned hospitality. With everyone earnestly trying to be reasonably upbeat, there wasn't much gossip to be had, but then – it being one architectural practice's marketing party, there were precious few representatives from other firms in attendance.
Not too far away, another party was in full flow, this time in the capital's prestigious New Club. The celebration in this rest home for Edinburgh grandees was to announce the arrival in the city of a new, five-man conservation practice – Purcell Miller Tritton. The company already has a host of offices the length and breadth of England, so even in these difficult times an experienced outfit like this must see some potential for its services north of the border. Not yet being old enough to gatecrash a do at the New Club, the Wrap can only report second hand on this event, the most extraordinary element of which was, apparently, the presence of the proprietors of Simpson & Brown, the new outfit's most likely competitors in the cut-throat Scottish conservation arena. We look forward to future developments with interest.
And finally…
I've avoided mention of the acronym affliction for a few weeks now but the other day I passed a yellow site signboard that proudly announced the architect as 'KRA', a cryptic appellation that on closer inspection revealed itself in the small print to belong to Kenneth Reid Associates. Thank goodness they avoided the inclusion of 'Practice' or 'Partnership' at the end of their name is all I can say. One practice I suspect that won't be reducing its title to acronym status is the aforementioned Purcell Miller Tritton. Given that this possibility was the subject of much schoolboy hilarity last Thursday evening, it should be pointed out that the pecking order is not alphabetical so one must presume the partners gave considered thought to what they should call themselves. Unless, of course, the one delegated to design the notepaper simply had a headache at the time.
Back to March 2009