Smith Scott Mullan and all that jazz
|
Send to friend
March 6 2009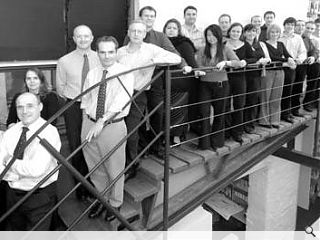 Smith Scott Mullan Associates are groggily awaking this morning having held a successful jazz evening at their Edinburgh base.
With free beer, nibbles and champers on offer the event was always likely to draw in the crowds and so it proved with a fire safety troubling throng of architects, designers and clients descending upon Leith Walk.
Titled "green shoots of recovery", the hob nobbing throng were hosted in a bid to counter the prevailing swell of industry pessimism with copious alcohol consumption and music, always a failsafe combo.
And with the likes of Neil Baxter, Mike Stevenson and the Wrap's very own Peter Wilson in attendance proceedings were always likely to be a lively affair.
Open evenings such as this provide an excellent excuse to keep up with the Jones's and Smith Scott Mullan's idiosyncratic home, replete with eye catching gangsta graffiti on a central lightwell, proved to be the perfect venue.
Back to March 2009