Frog's bog spawns hotel
|
Send to friend
March 3 2009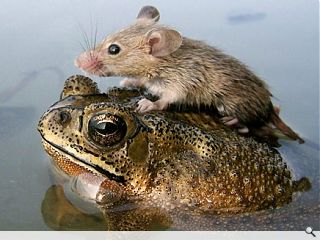 The latest product of a nationwide hotel boom is taking shape on prime waterfront property at the banks of the Water of Leith, Edinburgh.
Developers insist that with the capital awash with upmarket hotels and bistros there is a definite gap in the market in catering for the needs of local pond life. As such it is hoped that a new frog focussed facility can provide a safe breeding environment for those of an amphibious disposition whilst providing much needed hibernation space for those of us who've had enough of winter.
Locals have long complained of the predatory machinations of foxes and herons, which have displayed a known propensity to devour residents of the garden. Now however the CSV Action Earth campaign have heeded these calls to action by creating a twin tier "love hotel" alongside a pond in Redhall Walled Garden, catering exclusively for Edinburgh's slipperiest customers.
Strong sustainability credentials are boasted through the use of wood and recycled materials and developers have been able to reduce on site parking to zero in the expectation that most residents will simply hop in and hop out.
Ground level interaction is catered for with the provision of a compost café, an important area for socialising before entering whilst accessibility issues have been addressed by providing ramp ingress, ensuring ease of use.
The mooted plans have met with a frog's chorus of approval.
Back to March 2009