Skypark looks up
|
Send to friend
March 3 2009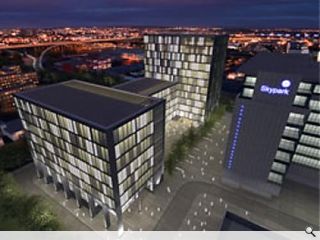 Outline planning permission has been granted by Glasgow City Council granted for an additional 330,000sqft of office space at the Skypark business park, including a substantial phased office block from Michael Laird Architects with ground floor retail around an expanded Finnieston Square.
Two hotels, providing up to 300 bedrooms, and retail units were also included in the plan which should further bolster the regeneration of the Anderson and Finnieston area to the west of the city centre. Each of the hotels, on land by Finnieston Street and West Greenhill Place, will have easy access to the road and rail infrastructure in the area.
Separate detailed planning permission for a Jenkins & Marr designed office building of more than 77,000 sq ft, with parking for 72 cars, on Houldsworth Street was also granted.
Backers of the inner city complex state that they have a long-term vision for the site and will not be deflected by short-term financial woes.
Skypark currently has six buildings offering 552,000 sq ft of office space and is managed by Skypark Unit Trust, a joint venture between Paradigm Real Estate Managers, Kenmore Property Group and Halifax Bank of Scotland.
gm+ad have masterplanned the site.
Back to March 2009