Linthouse thinking Big
February 17 2009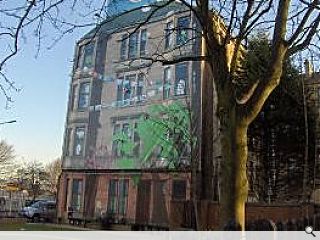 Big Digital have gift wrapped a tenement gable in Linthouse in a late Christmas present to the area, this follows a recent storm in which the previous canvas caught the gale like a giant sail, sending the prized piece cartwheeling through the sky.
The fastidiously tethered artwork now once again heals a fractured streetscape where Clyde tunnel access nodes plough through the south side community.
A full size representation of tenement life is depicted in the work which addresses a pocket park, a £40k project to bring to life a redundant scrap of land.
Commissioned by Linthouse Housing Association the banner is product of a series of school workshops which reinterprets the Clyde Tunnel and its impact on the collective psyche of the neighbourhood through the mediums of music, science and art.
Most famously this took the form of a silent film documenting the efforts of one particular passenger to forego breathing for the duration of his subsurface journey, fortunately traffic was unusually free flowing at the time.
Back to February 2009