Squaring up to traffic madness
February 17 2009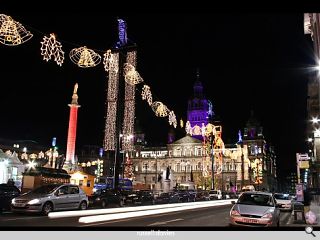 Glasgow's pre-eminent public space, George Square, has long been saddled with questionable design decisions, notably paving with low quality red asphalt and an abortive "Café in the Square" competition.
The glorified traffic roundabout also plays host to a series of seasonal carnival events which haven't met with universal acclaim. "Glasgow on ice" being nominated in the worst planning decision category of Prospect's Carbuncle awards.
Now though Neil Baxter, secretary of the Royal Incorporation of Architects in Scotland, has set his sights on the traffic blight by calling for a major reorganisation of vehicle management, potentially seeing two sides of the square closed off to traffic.
Traffic flow in the area is so bad Glasgow City Council have designated it a "Hot spot" in need of urgent attention.
At present pedestrians departing Queen Street Station have to negotiate three lanes of busy traffic to reach the square, hindered by narrow pavements and a multitude of bus stops.
On street parking and a major bus route choking up the north side of the square are cited as further bones of contention.
Closure of the road directly in front of the city chambers has long been mooted but councillors have balked at redirecting traffic deeper into the Merchant City.
Image courtesy Russell Davies.
Back to February 2009