Bo'ness Hippodrome takes centre stage
February 6 2009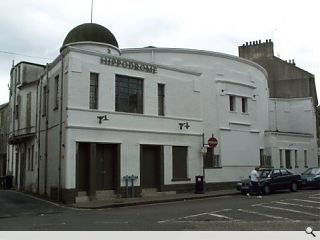 The curtain has been raised on Scotland's oldest purpose built cinema, The Hippodrome, as it reopens to the public following a £2.15m restoration programme.
The unique A-listed round house cinema first opened its doors in 1912 from the vision of local film-maker Louis Dickson and designs from renowned Scottish architect Matthew Steele.
It now forms a central plank of the Townscape Heritage Initiative, a program to restore significant buildings within the attractive historical town centre of Bo'ness. The Hippodrome is owned by Scottish Historic Buildings Trust, which undertook the first phase of restoration, and is now leased to Falkirk Council. The architects for the restoration project are Linlithgow based Pollock Hammond Partnership.
The £1.95m initial restoration programme was funded by The Heritage Lottery Fund, Falkirk Council through the Townscape Heritage Initiative, Historic Scotland, the Architectural Heritage Fund, Falkirk Environment Trust and the Manifold Trust. The £200k technical fit-out has been funded by Falkirk Council with support from The National Lottery through the Scottish Arts Council.
The restoration programme has seen extensive works undertaken, both inside and out, including the installation of new seating and repair and reupholstering of some old seats; reinstatement of the 1926 decorative scheme and repair of the original copper dome above the manager's office. The exterior and interior of the building were refurbished including the re-harling of the distinctive white exterior and re-roofing of the cinema.
Internally, the fit-out includes the installation of state-of-the art digital and 35mm projection and sound equipment and new screen. A new kitchen and café-bar servery have been installed to provide a modern cinema experience.
The Hippodrome finally stopped screening films in 1975 but continued for a few more years as a bingo hall. The Hippodrome finally closed its doors in 1980 and until October 2006 it lay empty. It is believed that the last film was The Golden Voyage of Sinbad shown on the 16th August 1975.
The Hippodrome is a key project in the My Future's in Falkirk economic development initiative which also includes the £5 million regeneration of Bo'ness and a £150 million mixed use development to redevelop the town's foreshore.
Cinema image taken by Graham Kelly
Back to February 2009