Mumford & Wood's glass act
February 5 2009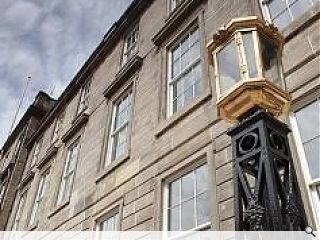 A project to replace high performance, single glazed timber windows with double glazed products has been Highly Commended by the judges of the BWF's inaugural Project of the Year Award 2008.
Mumford & Wood were enlisted to carry out the work on a retained B-listed Georgian-style façade on Saint Vincent Street, constructed in the mid 19th Century it now masks an infill development from 1988. The building, which was a vacant property awaiting refurbishment, was completely stripped out in 2006 to leave an empty shell.
This high-specification refurbishment included the cleaning and restoration of the historical façade which now incorporates high performance, modern double-glazed sash timber windows made by Mumford & Wood. The building achieves a high BREEAM rating.
GD Lodge and Mumford & Wood worked closely with the local authority who themselves argued the case for double glazed wood windows, against resistance from Historic Scotland, on the grounds that they would contribute to meeting the increasingly challenging targets of reduced energy consumption, and in doing so respond to government requirements in the reduction of carbon emissions and to meet the requirement of BREEAM assessment.
Mumford & Wood produce energy rated, made to order, wooden windows to suit both traditional and contemporary designs. These products promote the elegance of timber which is a truly sustainable material and are widely used inn listed buildings and within conservation areas when a sensible and informed approach is taken. All windows are finished with three coats of water based paint
"In a sensitive project such as this, positioned at the heart of Glasgow City Centre, one of our primary problems has been coping with the various bodies in the planning process and obtaining their responses," says Brian Taylor, project architect with GD Lodge Architects. "The innovation of Mumford & Wood's design capability in working with wood means to me that there should never again be onerous, costly and time consuming debate over the replacement of single glazed windows with double glazed units."
For more information about Mumford & Wood's technically superior, high performance timber windows call 10621 818155, or visit
www.mumfordwood.com
. Mumford & Wood is a member of the Wood Window Alliance and The Performance Window Group.
Back to February 2009