Rags to riches, Italian style
February 3 2009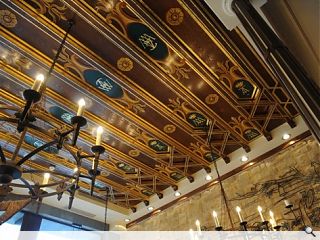 Surface ID have transformed a former pawnbrokers into a brand new Italian tapas-style restaurant in the heart of Glasgow's West End, La Vita Spuntini, offering a new style of dining for the discerning culinary glitterati of the area.
Interior designers of the award winning entertainment venue Òran Mór, Surface ID has developed a style for this restaurant to evoke feelings of medieval Tuscany mixed with more contemporary elements. The end result incorporates handmade furniture and original artwork with dark, warm, rich colours throughout.
An old timber ceiling has been completely revamped and refreshed with Intricate gold leaf motifs painstakingly prepared by local West End artists to create a new focal point.
A four metre squared metal art installation designed by renowned artist Andy Scott, designer of amongst other things the Iron Horse on the M8 motorway has been commissioned by Surface ID to adorn the space. This marries Italian renaissance art with the story of St Mungo and the Glasgow coat of arms.
All of the stools, tables and chairs in La Vita Spuntini have been hand-made using French reclaimed timber to maintain the rustic feel of the space. The slate floor will also feature reclaimed material whilst the windows have been specially designed using delicate red silk sandwiched between glass.
Marco Arcari, owner of La Vita restaurants and Spuntini said: "The West End of Glasgow is renowned as offering a great selection of bars and restaurants for the people of Glasgow and visitors to the city. With La Vita Spuntini, Surface ID has created a warm, welcoming place where friends and family can come together to linger over the best in Italian cuisine with a chance to experience the old favourites showcased in a new style."
The front of the restaurant features a beautiful slate picture frame style surrounding floor to ceiling glass, offering diners stunning vistas up University Avenue towards the University and Kelvingrove Park. On the mezzanine level an exclusive private dining area with space for 12 has been created featuring Robert Mills Antiques dining tables which are all individually illuminated maintaining an intimate feel for guests throughout the experience.
With the capacity to fit 140 covers, La Vita Spuntini, which means "sharing" in Italian, is housed in a former pawnbroker close to the junction of Byres Road and University Avenue/Highburgh Road.
Back to February 2009