Rugby legend back in the game
February 4 2009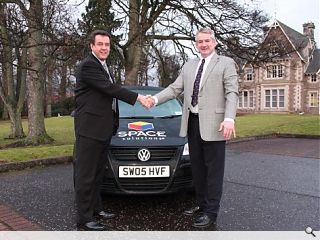 Rugby legend and renowned architect David Leslie has returned to work for the first time - two years after an accident that doctors feared would leave him paralysed.
The father-of-three fell 20 feet from the roof of his Broughty Ferry house in 2006 and spent three months in Dundee's Ninewells Hospital recovering from severe injuries to his head, neck, arm, ribs and wrist.
Last year he retired from Broughty Ferry-based architectural practice Wellwood Leslie – where he was a senior partner - to concentrate his efforts on making a full recovery.
The 56-year-old is now starting 2009 on a high, recently passing a two and a half hour driving test and returning to work as a consultant with workplace design expert Space Solutions.
David said: "Working with Space Solutions is a great opportunity for me and the company to use the skills I have acquired over the past 30 years. I see it as an ideal fit with my capabilities and experience.
"More of my faculties are shaping up. It is amazing how you compensate after an accident. For example, I have gained a slight tremor in my right hand, so I now write left handed. After nearly two years, I recently passed a 2.5 hour assessment of my driving with a gear shift.
"I'm looking forward immensely to the challenge of working with Space Solutions - and for the chance to be useful again.
"I'm hoping my experience will be of use to Space Solutions as it develops its business in the Dundee and North-East areas. I presume nothing, as on the rugby field, but I am confident that this relationship will bring benefits all round."
David won his first cap for Scotland in 1975 – at the same time he was studying for his degree in architecture. Throughout the next decade he continued to forge top-class careers in both fields, becoming a partner in an architecture firm in 1979 and being part of the historic Scotland side that won the Grand Slam in the 1984 Five Nations – the first for 50 years.
Back to February 2009