Wilson's Weekly Wrap: Does 'partnership' mean risk is equally shared? Quiet flows the Don & Parliamentus bacillus
February 3 2009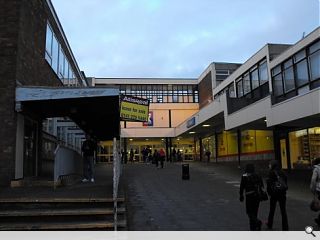 Does 'partnership' mean risk is equally shared?
It's a funny old world. Our world-saving Prime Minister has not been slow to berate the banks for over-involving themselves in complex financial mechanisms that they had no evident understanding of and which, being off balance sheet, have ensured their full horrors are still to emerge. Given this fact, you'd think the PM would have noticed, when suggesting public sector commissions would be accelerated to keep the construction industry on a respirator, that a high proportion of said projects are of the PFI/PPP variety, i.e. they are off the government's balance sheet and unlikely to find the necessary construction capital from our doughty bankers unless Downing Street's dynamic duo can rustle up yet more money to lend to them.
So, with £2.4bn health and education projects alone still on hold since the PM's announcement, the construction industry awaits a political solution to the conundrum: Can the government borrow still more money that taxpayers will have to service in order to underwrite further lending by banks (some now owned by the taxpayer) to PFI/PPP consortia to develop new buildings and infrastructure that aforesaid taxpayers will then have to meet usurious repayments on over the next thirty years to cover the private sector's supposed financial risk plus, presumably, a premium for speedy project delivery. I could be wrong, but I have a funny feeling it was precisely this Enron-style jiggery-pokery with the figures that got us into the current mess in the first place.
Democracy, but not as politicians know it Jim
Glenrothes, eh? Personally I've never thought this collective noun for roundabouts really had the planning credentials to qualify it as a real town so it was a bit of a surprise to see it triumph in Prospect's Carbuncle Awards. Mind you, it's a hard call when you get into the southernmost parts of Fife but since nobody other than characters from an Ian Rankin novel would dare step through the tumbleweed in Cardenden these days, the 'Plook on the Plinth' had to go to a place that was at least walkable and - more importantly – with potential to be salvaged. That of course depends on how you define salvage – for Peter Grant, leader of Fife Council, the future of Glenrothes town centre lies in new retail and leisure facilities, including - and hold me back here - a major Sainsbury store. Yes, you got it, a new town plan founded on the motor car will in future have lots more parking spaces: a sort of shopping mall civitas with nectar points.
Peter, you will remember, had the chance to broaden his horizons beyond the Kingdom Shopping Centre by heading off to the Palace of Westminster but instead managed to snatch defeat from the jaws of victory in the recent by-election and is now stuck with heading up a regeneration plan for Glenrothes town centre predicated on whoever happens to comes along with some development funding. Let's not forget the town centre won its prize for its depressing quality, a factor usually associated with boarded up shops, so it's probably no surprise that Mr Grant has failed to spot the financial tsunami that has hit the country's retail sector and that investment in this particular part of the property market – especially in a place with high levels of unemployment – is hardly likely to be forthcoming in the foreseeable future.
In the changed circumstances we now find ourselves in, the best politicians are likely to want to be seen as less defensive and more open-minded about the potential of Scotland's small towns. In this respect the Carbuncle Award offers the opportunity for Glenrothes to take a lead - Gordon Young, the editor of Prospect has promised to mount a conference in the Spring to explore urban design possibilities for the town centre that are matched to 21st century needs and which give the people of the town something more substantial than shopping to buy into. It's not conventional politics, but then these haven't worked very well in Fife for the past hundred years, have they Mr Grant? More importantly, will you take part?
Quiet flows the Don
Still on the Carbuncle Awards, you'd think Donald Trump would be delighted to have assisted Aberdeenshire Council to secure one of these precious trophies, given that he was beaten by Chris Hoy to the 'Scot of the Year 2008' prize as organised by Scotscare, a hitherto unknown London-based charity. Amazingly for the self-pronounced second generation Scot, Donald came third in the list for these baubles, behind both Hoy and Doctor Who actor David Tennant. He did finish ahead of Andy Murray though, but the boy wonder has noticeably shaken off some of his more curmudgeonly qualities of late, a factor that surely reduced his appeal to the ex-pat voters connected to the Scotscare outfit.
But back to the Carbuncles and the citation to Aberdeenshire Council for Scotland's worst planning decision of 2008. Mr Trump's spokesman (or at least his voice in Scotland) has apparently branded the award as "a joke" and said no-one in Scotland would take it seriously. Whether or not he was referring to the award itself when he came up with the latter comment or to the Donald's entirely philanthropic scheme for a new town and golf course on the Menie Estate wasn't entirely clear. I err towards the former viewpoint – it's a well-known fact, after all, that Americans have significant problems with irony.
Carbuncles Part III
And if Trumpy has difficulties with the humour of it all, what are we to say about our old friend Alan Dunlop who took it upon himself to throw his dolly out of the pram when one of his own projects found itself in this year's Carbuncle list? Glasgow Harbour has always had its detractors and, dare I say it, some not altogether convincing architectural attributes, but I feel placing it above its Edinburgh equivalents is seriously unfair – the scheme does have some thought behind it after all. Anyway, not one to miss a pr trick in a recession, Alan moved swiftly to defend his pride and joy with a sledgehammer of a counterpunch – he resigned from the Prospect editorial board, a move so extreme that the normally somnolent newsboys at BBC Scotland just couldn't get enough of his views on the award.
Now, in the normal scheme of things, there would probably have been a bit of press coverage about Fife's premier urban roundabout preventing Cumbernauld from picking up the trophy for a third time (and thereby getting to keep it) and that would have been it. Alan's quite brilliant intervention this year ensured the Carbuncles received maximum media attention and prompted renewed scrutiny of his now quite old project. A triumph of this sort so early in 2009 could well be the signal that there is finally a serious challenger to Richard Murphy's status as Scottish architecture's premier self-publicist. Whether we'll see quite so many articles in Prospect authored by Alan remains to be seen, but it seems more than likely that his daily addiction to the architecturescotland online Forum will ensure his peregrinations continue to entertain us.
Parliamentus bacillus
I used to think that if 129 bags of loft insulation were to be elected in place of MSPs, the only noticeable difference in the performance of the Scottish Parliament would be the quality of the debating chamber's acoustics, but boy, was I oh-so-wrong – from the evidence of this past week, the provision of insulating materials to every home in Scotland is clearly a nostrum that has the capacity to radically alter the nation's politics, a singular achievement the incumbent politicians could never be accused of getting together to deliver. Which of course provides the opportunity to flag up the old joke about how many members of the Green Party it takes to change a light bulb. The answer of course is none – members of the Green Party in the Scottish Parliament have never been known to change anything.
So, before you think the Wrap lacks sufficient respect for the primary institution of government north of the border or is making a small 'p' political statement rather than uncovering any particularly architectural dimension to the story (such as the view of the President of the RIBA that the installation of loft insulation is a task worthy of the members he represents), let me direct you to another piece of news that seeped out of our house of worthy representatives the other day. MSPs on the Scottish Parliament's Housekeeping Committee were told last week that Legionnaire's disease bacteria had been found in two "seldom-used" water outlets and traced to a hot water tank inside Queensberry House. And when was this contamination discovered? Oh, only seven months ago, so no lagging around the pipes here.
Tellingly a Parliament spokesman said the findings were not revealed to MSP's at the time because the risk was "not considered critical". Now, at risk of being pedantic, it is a well-known fact that Legionella can have fatal consequences and I suspect most people would feel "critical" was not too strong a word to use when describing the existence in the building of this particularly toxic bacterium. Of course, seven months takes us back to July 2008, a period when most MSP's would have already departed for sun loungers furth of Edinburgh, so the only people at risk would be – hmmm…. let's think now – the many overseas visitors to the building during the city's International Festival, few of whom would be aware of the hex that has hung over Queensberry House for the past 300 years.
And finally…
It's still politics I'm afraid, but with a bona fide architectural dimension. It's to do with Lord Foster, a long time top contender in la Liga Amoralista, but who in this instance doesn't actually seem to have done anything untoward other than sit around his house in St Moritz instead of in the House of Lords. Poor Norm has been caught up in the flak surrounding cash for peers - not, I would quickly point out, that anyone is accusing him of receiving un-invoiced payments (sorry, consultancy fees) to change legislation - and the resultant on-the-hoof 'Constitutional Renewal Bill' that proposes 'non-resident' or 'non-domiciled' peers should hand in their ermine cardies.
I confess I've never before felt the need for sympathy towards Lord Fawlty, but it seems a bit harsh to single out the king of high tech for such a public spanking, especially since there are only seven peers including himself who actually live abroad and not one of whom is amongst the ennobled Sparts named and shamed by the Sunday Times as having indulged in financial hanky-panky. Not that any of this is likely to worry Lord Faw-Faw – since being made a peer, he's never once sat in the House of Lords never mind actually having ever taken the trouble to make a speech there. In any case, the poor old soul is probably more focused on the catastrophic effect the credit crisis has had on his pension plans – like the rest of us, he may well have to work on for a good few years more.
Back to February 2009