Craigmillar's PARC make their mark
January 23 2009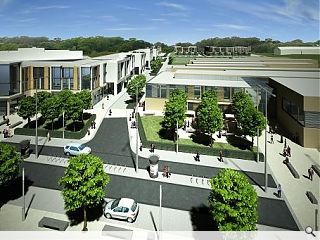 Edinburgh City Council have approved plans to create a new town centre for Craigmillar from PARC, the organisation overseeing the areas regeneration.
The proposals, put together by Broadway Malyan, aim to engender a new heart for the community by providing a centre of gravity for local life. Amongst the facilities created by the plans will be shops, a food store, £30m high school and a public library which together will form the cornerstone of a rebuilt Craigmillar.
A town square will provide the focus for the development with enhancements to the public realm ensuring that the town centre incorporates safe, secure and integrated links with neighbouring housing developments.
As well as forging a new identity and sense of place the plans aim to create a series of employment and social opportunities for local people.
Mike Harrison at Broadway Malyan said: "This is an extraordinary opportunity for the regeneration of Craigmillar with the potential to create a vibrant and community focused town centre. We have spent a lot of time in Craigmillar over the last year sharing these proposals with the community and to give the people of Craigmillar the chance to express their views and inform the process."
The town centre masterplan could take up to 15 years to bring to fruition, but the High School and food store are likely to be brought on stream early.
Back to January 2009