SoCo on time
January 23 2009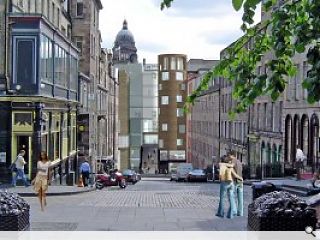 Allan Murray Architects and Whiteburn Projects have waltzed past planning with their SoCo masterplan, winning unanimous spirited approval from councillors.
The only qualms expressed by members related to the height of a hotel "tower" and materials selection on the South Bridge façade. Whiteburn will sit down with the council to iron out these matters within the next few weeks.
The fire ravaged site in central Edinburgh's Old Town will be rebuilt to include a 200 bed Hoxton Urban Lodge hotel, led by Pret a Manger co-founder Sinclair Beecham. The "funky budget boutique" plans to occupy the mixed use redevelopment as part of their UK expansion plans.
SoCo employs a spicy interpretation of the existing buildings on South Bridge and the Cowgate.
Murray is keen to work with the historic typology of the Cowgate site: "SoCo will be a collection of buildings in sympathy with the contrasting urban grains of Chambers Street, South Bridge and the Cowgate, complemented by a network of closes and vennels. A series of courts, terraces and entrance spaces at different levels, with different uses, will bring vibrancy to the area."
Importantly the developers aim to commence construction on the £40m project this year, alleviating some pain from the ailing construction industry. Completion is anticipated by 2011.
Back to January 2009