PPG's Gullane gain
January 16 2009
A knight in shining armour has emerged to take on the former Templar Lodge Hotel on Gullane High Street after Ryden and Premier Property Group (PPG) rode into town.
Both developers are setting up home in the former 18th century manor house, derelict since 2003, after planning consent was granted earlier this week by East Lothian Council.
This grants authority for nine flats and eight town houses to be carved from the bones of the B listed property.
Officials acquiesced to residential conversion only in last resort having been persuaded by Ryden that the property did not have any future potential as a hotel. New build is to be "sensitively designed" such that the setting of the historic building is complemented, not compromised.
Ryden and PPG were left non plussed by tortuous bureacratic processes however, these delayed development by two years as the property bubble floated past and popped just beyond reach. Nonetheless both players remain confident that the quality of the proposal is sufficient to sever reliance on a rising market.
Fiona Clandillon, planning associate at Ryden said: "We're delighted to have secured planning consent for PPG. It's unfortunate that it has taken two years for it to be approved, as both the building and the market conditions have deteriorated since the application was lodged. However, this is a proposal of outstanding quality for a high profile site and we're confident that it will be a successful development in Gullane".
Russell Wilkie of PPG commented: "This has been a long and complex planning process, however, we are delighted that the Council has finally approved the planning application which will greatly improve the outlook of Main Street as it is such a prominent site within Gullane".
Plans for the town, well known for its beaches, are being drawn up by Coast Architects, a joint venture between Keith Cunningham Architects and Hackland+Dore Architects.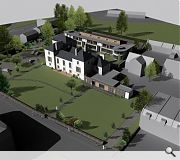 Back to January 2009