Duddingston House say show will go on
January 16 2009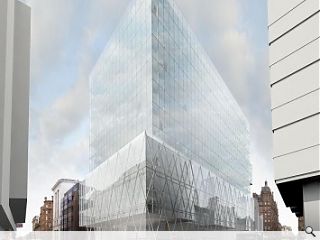 Duddingston House Properties Director Bruce Hare has reacted with incredulity to press reports in the Evening Times stating that the Paramount Building is to be scrapped, telling Architecture Scotland that they are "completely incorrect."
The Saturday edition of the local rag ran with a sensationalist headline, "£80m Odeon plan is ditched", emblazoned across the front page. But in actuality the art deco venue is still on track for a spectacular overhaul, from gm+ad architects, one that will redefine Glasgow city centre.
Hare has resigned himself to inaccurate media reports, saying: "They jump the gun, regurgitating old press releases. They won't print a retraction of course.
"While times are difficult, I do remain positive. It's a great design we have, Gordon and his team have put a lot of work into this.
"The biggest challenge now is the way you fund a project of this size, toward the end of the month we will be having a couple of meetings in London to that effect."
Asked about the eyesore nature of the deteriorating cinema site Hare sympathised: "We can't do any demolition of the brick part and fence it off because it's a listed building. Historic Scotland is of the view that you can't take a building down until contracts are in place to start construction and I agree."
Duddingston House are unperturbed by a recession hit economy, seeing it as a return to the way things should be done. That is the construction of properly researched quality developments, a far cry from the froth of the bubble years.
Graven Images are working on a branding and marketing strategy for the ambitious plans, an announcement on which will be made when financing is secured.
Back to January 2009