Deramore back for more
January 9 2009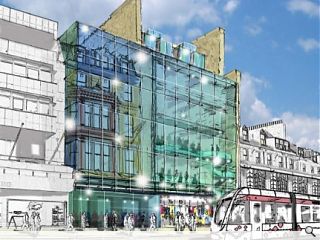 Deramore have gone back to basics with the design of their £40m hotel on Princes Street, in response to vociferous opprobrium leveled against them by heritage and design groups.
This angst was engendered by a plate glass enclosure ensconcing the 103 bedroom hotel within a glazed coccoon, an unorthodox approach from SMC Hugh Martin partnership which was condemned as "imprisoning" the hotel.
The Belfast based developer has elected to skirt a fight and restrict the glass frontage to upper levels only, in the hope that these last minute amendments will be looked upon favourably by councilors when the planning application is considered in the next few months.
Plans for a rooftop garden and second level courtyard remain intact.
The development covers two distinct buildings, a Georgian piece which would be retained and a B listed Victorian building which would be demolished.
Princes Street is widely considered to be in dire need of fresh investment and this project, which engages the street and brings back into function derelict upper floors, is regarded as just the ticket.
Back to January 2009