Back in time, Glasgow 1999
January 9 2009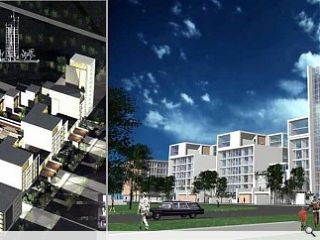 The legacy of Glasgow 1999 has been called into question by a Newsnight investigation commemorating the tenth anniversary of the architectural extravaganza.
The Newsnight team quoted an independent review in the event aftermath which stated the impact of Glasgow's stint as European Capital of Architecture and Design was lower than forecast: "A third of architects didn't think it changed their perception of the city."
Alan Dunlop, partner in gm+ad architects, was not amongst their number: "1999 told us there was no architect practice in the world we couldn't compete against." The media savvy front man went on to offer coded criticism of Hadid in the Transport Museum project: "There is no reason why a Scottish architect could not have taken that on."
Economist and town planner, Eleanor McAllister, defended the failure of the flagship Homes for the Future phase 2 project to get off the ground, highlighting delay's in procuring land as a mitigating factor.
Clydebank Rebuilt's MD went on to stress the tangible renewal of Glasgow Green, in particular the fully restored Doulton Fountain at the People's Palace.
The greatest single investment of 1999 was the Lighthouse and here too BBC culture editor Pauline McLean voiced doubts, commenting that despite a city centre location the venue remained both out of sight and out of mind.
Many of the supposed benefits of the program are alleged to have been in progress prior to and at no influence of the jamboree.
Back to January 2009