ASL flats not all that, say artists
January 9 2009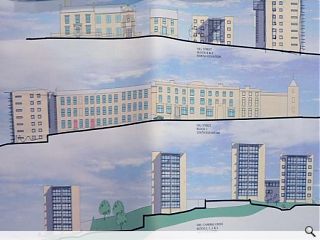 A development of affordable housing in Garnethill, Glasgow, has painted a sorry picture for local artists.
What was once tawdry scrub has sprouted a steel frame of eight floors in height, skeletons for three initial blocks of housing from a potential five. The work of Charing Cross Housing Association, Ogilvie and architects Austin Smith Lord, each property will be split 60/40 between private sale and social rent.
A condition of planning permission was that some artwork be incorporated into the development and it has emerged that this will take the form of commissioned poetry from a local primary school, to be engraved in flagstones at a new viewing area.
Unhappy at this circumvention of resident talent local artists are getting creative and drawing together to canvas support for more substantial commemoration of the area's heritage. To this end community Councillor Emmanuelle Guibbe has called on Ogilvie to reconsider their art plans for the viewpoint, pending community consultation.
Ogilvie for their part remain open to the possibility of further change as the viewpoint is not scheduled to complete until the end of the project.
The hilltop perch above the M8 motorway has commanded stunning views across the west end skyline for decades, providing the perfect backdrop for the city's artistic community in close proximity to the School of Art.
Back to January 2009