Beeslaar draws the future
January 8 2009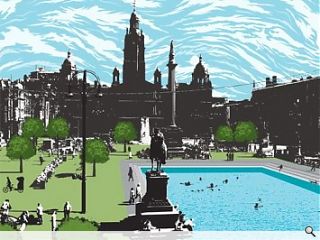 Striking visions of a surreal juxtaposition of present, future and the outlandish have been published by artist Will Beeslaar.
Commissioned by Nord for the Six Cities Design Festival, the illustrated scenes of urban Glasgow portray familiar haunts in unusual circumstance.
The conceptual portrayal of key sites dominated by outdoor lido's foretell a chilly future of very public leisure. Elsewhere Rickshaws and cyclists crowd the streets around Central Station, a far cry from today's traffic choked bus corridor.
Whether these outlandish scenes transpire or not they surely succeed in exciting the spark of imagination.
Beeslaar specialises in creative graphic solutions, producing specialised illustrations of visual interest.
Further details can be obtained at
http://www.beeslaar.com
Back to January 2009