ADS cut Bothwell Plaza down to size
January 8 2009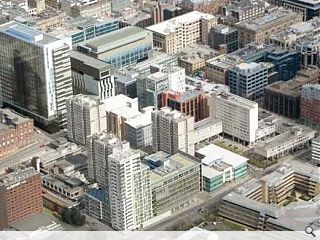 Aedas's Bothwell Plaza has been given a drubbing by design watchdog Architecture + Design Scotland (ADS), following the latest planning application from European Development Company (Hotels) Ltd.
In a report distinguished by an absence of praise the sages of good design allege that concern for the bottom line had compromised the architectural integrity of the project, by splitting office and hotel elements into stand alone units within the campus.
A resulting variation of architectural mass and style across the separate elevations was slated, eliciting continued rebukes from members articulating the opinion that this separation of function had stunted the impact of what ought to have been a "unified presence".
In a controversial war of adjectives the committee refused to repeat Aedas's use of the term "tower" as accurate descriptive choice for the 19 storey office block, the tallest commercial space in the city. Instead the committee insisted on substituting the offending vocabulary for "slab block", denigrating the overshadowing wall.
The notoriously altitude-phobic outfit puffed: "A more integrated design approach could avoid stand alone built form". Rather than argue for greater soar however a more familiar tack of insistence on vertical restraint was insisted upon, due to adverse effect upon distance and skyline views. Sources complained: "ADS love hacking the ambition out of schemes with dubious at best skyline rationale. Glasgow doesn't have a skyline, buildings such as this are needed to provide one."
Extensive skyline analysis conducted by Aedas, which had already seen height stunted to keep below GOMA when viewed from Ingram Street, had ironically contributed to a squat profile and has frustrated those who harbour ambition of height for the city. One critic opined: "You can argue the architecture till the cows come home but at least the Victorians had the balls to frame important view corridors. We're left cowering in the shadow of past glories."
Project architect Stuart Graham said: "there has been an ongoing dialogue over key views and some of our responses to that, there's a kind of compromise. We've looked at 24 and 25 floor options, floated 35 floors at one point, but once you start to go beyond 20 stories you start to get into completely different lift solutions and lifts are a real killer in commercial buildings. "
Public realm issues proved a further bone of contention, condemned as: "at least as bleak as what previously existed on the site." Non-plussed reviewers went on to vent concern at a perceived absence of informed design, scathing: "The current scheme continues to fail to synthesise the findings of the site analysis in a manner which responds positively to the context of this key city centre location."
Having slammed the essence of the scheme in its entirety through preceding paragraphs the reports conclusion was perhaps a trifle redundant: "We do not support the proposal." Eyes now turn to the council to see if heed is paid to what some regard as an ineffectual grouping.
Back to January 2009