LUDO players sought
January 7 2009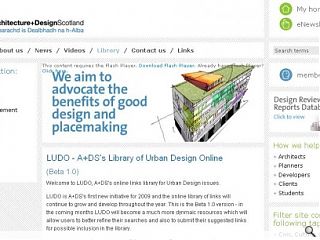 Architecture + Design Scotland (ADS) have unveiled their Library of Urban Design Online (LUDO).
LUDO is not that familiar game of humble chance but rather an online repository that catalogues a series of PDF, web and video based reports. These are organised in accordance with the scale of impact, from an individual plot, through to a city block and finally a city region.
It is intended that LUDO will thusly assist professionals and the public in sourcing specialist material on urban design issues sourced from hundreds of websites around the world.
This 2009 initiative is intended to grow and develop as the year progresses allowing users to refine their searches and submit possible links for inclusion in the library.
At present LUDO 1.0 constitutes a first phase BETA and ADS welcome any user input as to how to progress with LUDO 2.0 which is scheduled to launch by the Summer.
LUDO will available at
www.ads-ludo.org
or
www.ads.org.uk/ludo
.
Back to January 2009