What goes up…
January 5 2009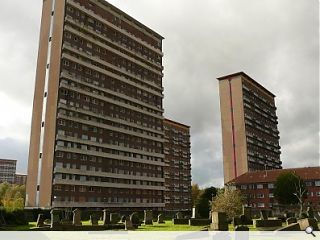 Glasgow Housing Association are bringing in the New Year in explosive fashion with a slew of further demolitions, maintaining the bumper harvest of 2008.
First in the firing line will be towers in Shawbridge and Sighthill scheduled to come down early this year.
From an inheritance of 238 high rise blocks the standing tally has now been reduced to 223 with a further 34 high rise buildings already condemned. Should these plans come to fruition it is expected that Glasgow's count of approximately 167 remaining tower blocks of 12 stories or more can be reduced to around 120 within the next decade.
It is anticipated some £1.5 billion will be spent through to 2022 demolishing 10,300 homes (the bulk high rise) and building 8,200 private homes with 3,800 for social rent.
The cumulative impact of all this activity will have a transformative effect on the city skyline but the sheer volume of stock should ensure the humble point block remains a staple feature of the horizon through the majority of this century.
Works are already in hand by 3DReid to prolong the lifespan of more popular abodes using rainscreen panels and thin coat insulated render. Current works encompass 55 multi storeys and 41 8 storey blocks.
Already a block in Curle Street, Yoker, has been reclad and will be followed by 12 blocks at Sandyhills and Sighthill. Other refurbs include 18 blocks at Gorbals, Pollokshaws, Mosspark and Cardonald, and 25 West end towers.
Back to January 2009