Tradeston gets The Point
January 5 2009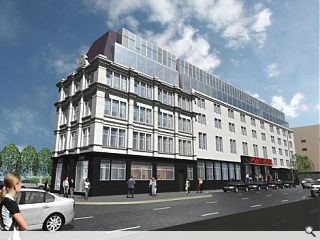 Glasgow's hotel bonanza shows no sign of abating with Northern Ireland keen to grab a slice of the action in the form of Benmore Developments. The developer is seeking to rehabilitate an abandoned property on Morrison Street to accommodate a 153 bed hotel.
Plans being drawn up by 3DReid would see the existing four storey structure expanded upon with a split level glazed penthouse and the introduction of a ground floor café.
Constraints of a triangular slip of land at an important road junction immediate to the successful restoration of the Co-op building necessitate a distinctive footprint and the developments monicker of "The Point".
Commercial interest in a previously neglected quarter is a hoped for by product of ongoing public realm works at Tradeston riverfront.
Benmore are currently engaged in discussions with Glasgow City Council prior to a full planning application being made.
Back to January 2009