Aural artistry
January 5 2009
An abandoned Leeds music hall has hit the right note after a partnership between Building Design Partnership (BDP) and Opera North restored the Victorian venue to full sonic splendour.
The curtain will rise on the £32m refurbishment work on the Grade II* listed Howard Assembly Room on January 16 when the first entertainment programme in 20 years will be unveiled.
Previously in operation as a cinema the venue accommodates an acoustic rich ambience with arched windows and barrel vaulted ceiling to focus sound waves upon the audience below.
The Assembly Rooms were designed by architects George Corson and James Watson in 1879 and opened with a performance by the conjurer Dr Lynn. The venue was intended to provide 'respectable' entertainment that would set it apart from the popular pub-based music halls, housing shops, extensive wine cellars, a gilded dome-roofed auditorium for performances, and the adjoining Howard Assembly Room.
Martin Ward, Architect with Building Design Partnership commented:
"The restoration of the Howard Assembly Room has rejuvenated a Victorian landmark that deserves to be enjoyed again by modern audiences. Over many decades, alterations and fire damage has left this unique venue, in a state of disrepair, but the extensive renovation has combined the distinctive features of the original design with new elements to create a very modern space for live performances and an eclectic gathering of people, once again."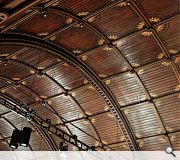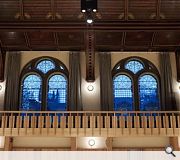 Back to January 2009